Imagine you are a super hero, you have one super power, what would you choose? Super human strength? Telekinesis?

Invisibility? Ability to fly would definitely be artist Holly Trostle Brigham's choice because of her enchantment with flight. Her captivation is communicated through numerous works in Holly Trostle Brigham: Dis/Guise. Flight is depicted literally in the exhibition through the inclusion of winged insects in many of her works, but also portraits of women in aviation. However, to Brigham, flight goes beyond the surface and is interpreted in all of her creations as women transcending beyond their traditional roles.
Brigham's earliest work based on flight is Zephyr, Angel, Wings and Me, completed in 2002. The work displays the artist as Amelia Earhart with butterfly wings and holding on to a baby. Zephyr, the Greek god of wind, signifies the baby who is Brigham's son, Noble. He is portrayed with a human head and the body of a pupa signifying transformation and ones ability to transcend beyond traditional roles. Amelia Earhart is the Angel because of her plane being lost.

Wings is representative of the elements of flight such as the butterfly wings, the airplane and the pupa's future. She subtly incorporates flight by positioning her hands to resemble the blades of a propeller. Two collaged photographs of Earhart in the background of the work reference a recurring dream that Brigham has of Amelia Earhart landing safely on her final flight. Zephyr, Angel, Wings and Me combines Brigham's themes of flight, birth, motherhood and transformation, while honoring the achievements of Amelia Earhart.
WASP Bea. I. Wolf. Holly Trostle Brigham. 2012.
In February 2012, Brigham participated in a group exhibition of ten artists, Home Front Heroes: Women of World War II, at Penn State University at Lehigh Valley. In the early 1940s, during World War II, thousands of women enrolled in courses and sought employment in drafting, chemistry, management, defense training and other skills offered by Penn State Lehigh Valley, filling roles left vacant by men fighting overseas. Brigham contributed her work, WASP Bea. I. Wolf, to the exhibition, which depicts a woman who served in the Women Airforce Service Pilots in the Army Air Corps (WASP). Her work recognizes the many women who bravely served going beyond their established roles in society.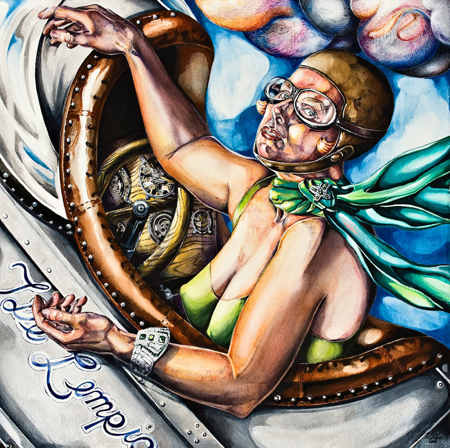 Tamara de Lempicka: On Autopilot. Holly Trostle Brigham. 2009.
The work, Tamara de Lempicka: On Autopilot,
does not depict a woman aviator, but artist, Tamara de Lempicka, who painted celebrities in Europe during the 1920s and 1930s and was well known for her collections of fancy cars and jewelry. De Lempicka is flying on autopilot, so Brigham could spotlight the spectacular pieces of jewelry
that de Lempicka actually owned!

Brigham speculates that de Lempicka could have had the opportunity to fly because she was a wealthy woman who was sporty and adventurous. Even if de Lempicka had not ever flown, she sailed beyond what was expected of a woman during her time.
Flight, to Brigham, is more than piloting a plane or soaring through the clouds wearing a cape. She interprets flight as a metaphor for women aspiring to go beyond stereotypical women's roles. All of the women Brigham has chosen to depict were determined to succeed in environments that were, for the most part, unreceptive to women. Brigham reminds viewers of the challenges these super women faced and keeps their bravery alive through her works.
Holly Trostle Brigham: Dis/Guise will be on view at the Luther W. Brady Art Gallery until February 28, 2014.
Taylor Schmidt, Gallery Assistant