The artist in the Luther W. Brady Art Gallery. Photo: William Atkins
When questioned about which piece from the exhibit Brigham identifies with the most, she immediately turned to Artemesia: Blood for Blood. She commented that the work was a turning point for her. She created the work as a defense for Artemesia Gentileschi
during her rape trial and depicts what she imagined the post-rape scene to be from reading the documents detailing the rape and the trial. Brigham includes a pendant, which displays Gentileschi's work, Susanna and the Elders

, which was her first painting completed after the rape

. In the work by Brigham, Gentileschi is shown clutching a lock of her rapist's hair and a knife that is capped by a figure of Artemis of Ephesus, a symbol of motherhood and fertility. A key with Artemesia's initials – A.G.
–

inscribed in it, hangs from a ribbon around her neck, showing that she could not have given it to her rapist as he alleged during the trial.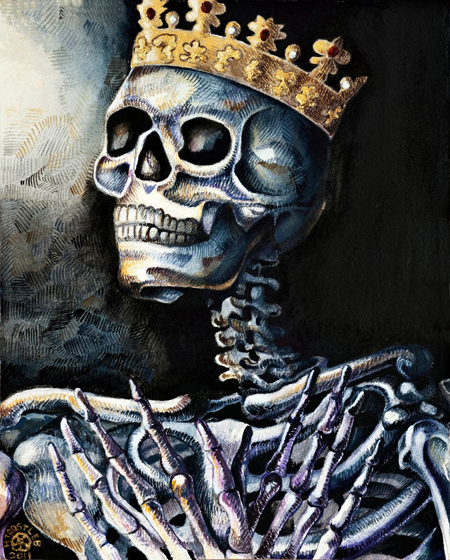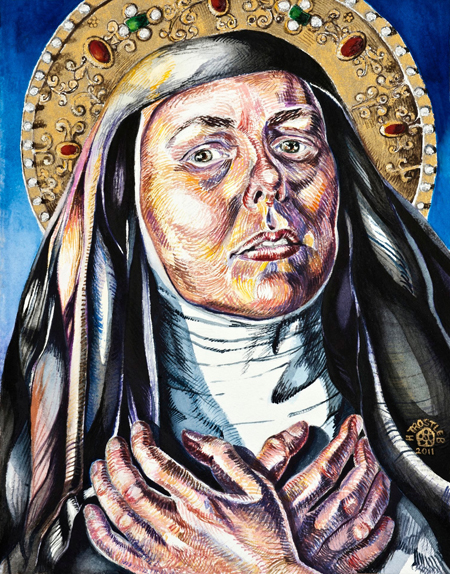 The piece, Hildegard's Box, is unlike the other works in the exhibit, it is a sculptural work that incorporates Hildegard von Bingen's songs. The work is a wooden box painted with scenes in oil and features two portraits: Hildegard von Bingen and Dead Hildegard. The door to the box is decorated with a sacred heart and remains ajar, inviting viewers to peek inside. The interior of the box is covered in a lush red fabric and contains two mysterious objects encased in jeweled gold bags. I was eager to discover what the objects were, and during our discussion I was intrigued to hear that it contains two organs – a heart and a tongue – made of wax of course! Brigham expanded on this, explaining Hildegard's heart and tongue are rumored to be buried beneath the church of Eibingerstrasse in R
üdesheim, Germany.
Two other works in the exhibit are accompanied by relics, which Brigham integrated to provide a more authentic atmosphere.
A wedding ring is hung beside the portrait, Henriette DeLille, to reinforce the concept of nuns being married to God. The ring dates back to the early nineteenth century, the time period that the Creole nun lived. Brigham explained that it was common for convents to have a doll to represent baby Jesus, which is why she portrays the figure representative of DeLille holding a doll. The doll, which is depicted as an African-American highlights the nun's major accomplishment, founding the first African-American religious order – Sisters of the Holy Family. She commented that she felt pity for nuns, because they cared for the doll as if it were a real child, having no children of their own. Santa Caterina's Trinity, another religious portrait, is complemented by a framed lock of hair. The lock of hair belongs to Brigham, which she decided to use to demonstrate women having to cut their hair to show humility if they wanted to become a nun.
During our conversation, Brigham had mentioned her fascination with flight and how she often dreams of flying, which has led to her interest in aviation and her works exploring flight.

Her work, WASP Bea. I. Wolf, was created for a group exhibition that focused on women in World War II, which includes two authentic World War II medals and the badge of the WomenAirforce Service Pilots (WASP). WASP was an organization of civilian women pilots employed to fly military aircrafts in World War II. Bea. I. Wolf., is a play on words that incorporates the bee wolf, a predatory wasp, and Beowulf, a mythical hero, who Brigham links to feminism. The epic poem, thought to be written in 700 A.D., explores the expected gender roles for women. Brigham's piece shows this woman aviator transcending beyond her traditional roles. The "I" in the title is representative of Isis, an Egyptian goddess of motherhood, nature and magic. Brigham also commented that her choice to use black and white in this portrait was a way to replicate a black and white photograph from the 1940s and then she touched upon her choice of frame for this work, chosen because the frame appears to look like insect wings. She matched most of the frames to the time period of the work she was investigating.
Brigham places herself in the images of female figures of the past in the hope of continuing their message and keeping them alive. She is currently expanding her Seven Sisters II series with other creative images of nuns. She hopes that when she enters the afterlife her works will continue to spread not only her message, but also the messages of the women she has depicted.